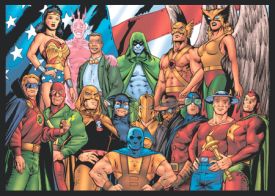 I admit it - I'm very upset that JSA is being canceled. Oh, sure, they're probably going to do another reboot/revisit, and there's a trade paperback coming out in August, but I'm still not happy.
(Well, that and the fact that BBC America gave
Netflix
a 2-disc version of
Doctor Who: The Beginning
, rather than the normal 3 disc version. I guess they think we can't get "An Unearthly Child"...but I digress)
Much like
Roger
, who
enjoys shredding things
, I will be doing my part for the environment this Earth Day. On Sunday, I'll be part of the big
Forest Park Earth Day Celebration
(come over and say "hi!), and on April 25th, I'll be part of the
Green Drinks
celebration. So, be sure if you're visiting or stalking me, to swing by and say "hello".
Also, if you're looking for a good excuse to visit St. Louis (like you
need
one), be sure to set May 4th on your calendar for the Boys and Girls Town Young Friends Happy Hour, at Jacques in the Sheraton (or, as it will be known on May 4th,
Bernie Federko's
). It's convenient to the
MetroLink
, and will be enjoyable.
Just sign up here
, and let 'em know I sent you.
Finally: the Alias guy takes over Trek - George Takei's concerned!