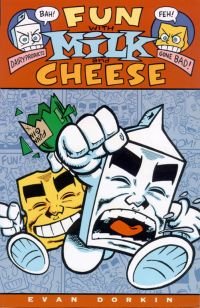 First, my thanks to the inimitable
Lefty Brown
for
making this suggestion.
As many of you are aware, May 16th will mark the second anniversary of this blog, and I would like to celebrate. Since much of how I celebrate involves acts not suitable to describe for the youngsters out there, I thought, "Hey, what would be cool?....A contest!"
In that spirit, I am announcing the first evah "Blog THIS! Pal Graphic Novel Giveaway!", and our selection is that classic of modern graphic literature,
Fun With Milk & Cheese
by Evan Dorkin. I could describe it as one man's warped take on contemporary culture through the eyes of two misanthropic dairy products...but it's best described as "laugh-yourself-sick-funny". If you haven't seen these strips, you don't know what you're missing.
But wait - there's more! I'll even toss in a commemorative 2nd anniversary Mix CD! (And three second prize winners will win a Mix CD and a "special freebie", or "something that I nicked from a health fair and is taking up room which I'll never use".) Hey, free schwag for four lucky readers - sounds like a deal to me!
So, what to you have to do to win? Just send me a e-mail at "blogthispal (at) gmail (dot) com" (making appropriate corrections) with the following:
Your favorite post(s) of the past two years (from May 16th, 2004 until May 12, 2006)
Why you feel it's worthy of nomination
Your name, mailing address, and credit card numbers. (Actually, I'm just kidding about the card numbers)

Just a few rules, to make it really interesting:
All entries must be e-mailed to me no later than May 30th, and a winner will be selected the first week of June
Any comments/postings on other blogs are out, so the infamous "JLEbay" post on Comics Should Be Good or my 5 reasons America's great for Greg's blog - don't qualify. (Gotta be fair, and since both of those were contest winners...)
Bribes, cash gifts, and attempts to unduly influence the outcome not only welcome, but strongly encouraged.
No pictures - photoshopped or otherwise - of Mike Sterling wearing a Speedo.

So please, feel free to spread this amongst the blogosphere (and as always, I'll have continuing updates), but hey - it's one less graphic novel
you
have to purchase, and you can help us have a great second birthday!