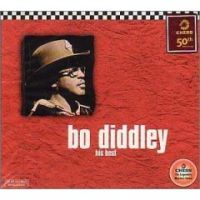 He's been called
The Originator
.
His is the sound that launched a thousand guitarists
. And he's the center of June's "Record You Should Own."
I was tempted to promote the
two-CD boxed set
, but I'm going to settle for the one-disc 50th anniversary collection,
Bo Diddley: His Best
Maybe "settle" isn't the best choice of words - after all, Bo Diddley is one of the (in my opinion) relatively unsung pioneers of rock'n'roll. If Chuck Berry was the Beatles, Diddley was the Rolling Stones. Bo's more rhythm-heavy, driving tunes were not exactly radio-friendly (even back then) - however, they are an important backbone to most contemporary music.
Just listen to the grooves - minimalist rock ("Who Do You Love"), rap and
the dozens
("Say Man"), blues-based bragging ("I'm A Man"), killer ballads ("Mona") - it's all here, wrapped up in three-minute-or-less bursts because it would blow your mind if they were longer. This collection also contains a good mix of "the hits" and relatively obscure tracks, many of which were covered from bands ranging from the
Yardbirds
to the
New York Dolls.
To put it bluntly, this
is
the history of rock and roll, and demands multiple plays on your stereo.
Just to put it in perspective - Bo Diddley was paired with another Bo for a
series of commercials
.
Nobody ever asks, "Whatever happened to Bo Diddley?"
Listen. You'll thank me later.